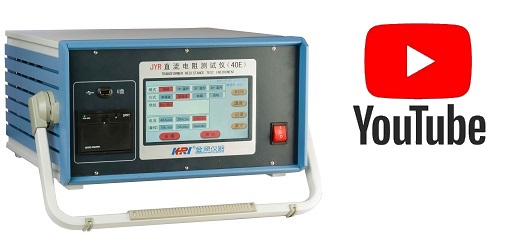 1. Suitable for all transformers below 240MVA temperature rising test and winding resistance testing.
2. Printing temperature rising data automaticly.
3. With double power supply, can test high voltage side and low voltage side simultaneously and test any operation respectively.
4. With anti breakage protection function of inductive test items.
5. Deriving data by U disk to forming curve of temperature rise by computer.
6. With 485 communication interface which can inter-connect with computer.
7. With protection function for mis-connection operation to AC380V.
8. With temperature rising software that can manipulate testing data automaticly.
9. Audio discharging alarm, discharge indication is clear.
High performance of MPU (microprocessor) can provide high precise data and fast calculation:

Main operation interface for temperature rising testing:
Temperature rising curve: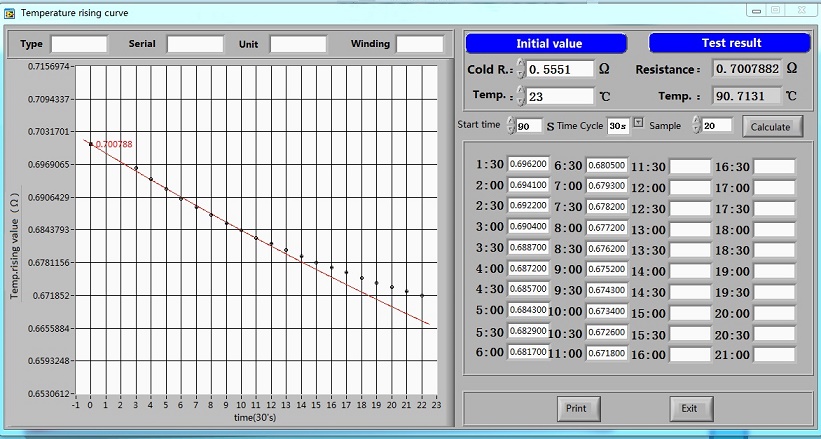 Technology Specification:
TYPE

40E

20E

Output current

40A , 20A ,10A ,3A, 1A, 0.3A, 25mA

20A ,10A ,3A, 1A, 0.3A, 25mA

Testing range

0~40 kΩ

0~40 kΩ

Accuracy

0.2%±0.2μΩ

0.2%±0.2μΩ

Output voltage

DC50V

DC50V

Minimum resolution

0.01μΩ

0.1μΩ

Power supply in operation

AC220V±10%, 50Hz±1Hz

Temperature in operation

-20~40℃

Relative humidity

≤80%RH, No forming dew

Volume

Length 410mm Width 440mm Height 210mm

Net weight

15.7 kg

Temperature rising timing rate

10",30",60" are optional