Demo video: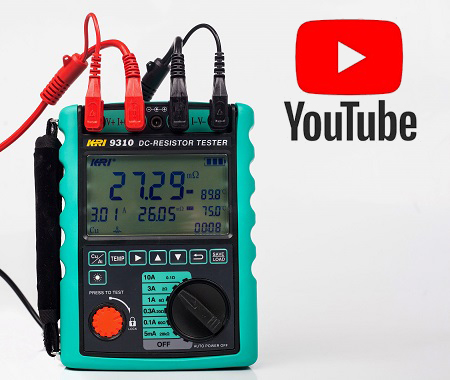 KRI9310 Handheld winding resistance tester is the first portable transformer DC winding resistance tester in the world, it is a full-automatic and digital portable measuring instrument researched and developed by a number of patented technologies.
The instrument is not only suitable for the inductive tested products, such as distribution transformer, mutual inductor, reactor(CT/PT/VT), motor winding,electromagnetic operating mechanism, etc, but also suitable for the resistive tested products, (such as wire, switch contact, relay contact) etc.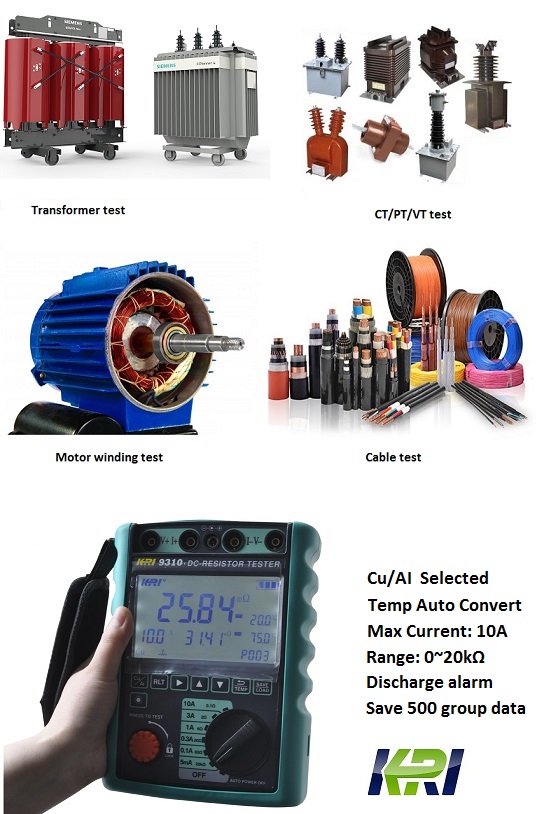 The resistance values of the dry type transformer and amorphous alloy transformer are extremely low because the low voltage coil is wounded with the cooper foil. KRI9310 DC transformer winding resistance tester can be able to increases the current to 20A, so as to solve the problem of low value resistance measurement. For the tested products with high resistance value ( such as transformer, etc), the instrument can extend the range to 20kΩ
The power of instrument is the built-in rechargeable lithium battery. The advanced power management technology supports the instrument to measure hundreds of transformer by one time charging.
TECHNICAL INTRODUCTION:
JYR-9310 transformer winding resistance tester is suitable for small distribution transformer (below 80KVA)
JYR-9310 is provided with the temperature conversion function. By selecting test sample material(copper/aluminum) and temperature from tester, the instrument can be able to automatically convert them to the resistance values under the standard temperature (20℃,75℃,120℃).
JYR 9310 transformer winding resistance tester is provided with the data storage function, 500 groups of experimental data can be stored within the instrument. also JYR9310 has USB interface, the data can be down load to flash disc.
TECHNOLOGY SPECIFICATION:
Tester type

JYR9310

Scope of application

10A

3A

1A

0.3A

0.1A

5mA

Test range

0Ω~0.1Ω

0.01Ω~2Ω

0.03Ω~6Ω

0.1Ω~20Ω

0.3Ω~60Ω

30Ω~20kΩ

Accuracy

0.1%±0.5μΩ

Minimum resolution

0.1μΩ

Built in battery

11.1V ; Capacity:4500mmAh

Standard conversion temp.

20℃/75℃/120℃

Temperature test range

-99.9~199.9℃ ; Accuracy: ±0.5% (JYR9311 only)

Volume / weight

Length 155mm Width 210mm Height 68mm /1.66kg
Testing sites of JYR-9310 transformer winding resistance tester:

Kingrun attend Jakarta Power-Gen 2018 exhibition and IEEE Thainland 2019