4105DL [Cable Reel Set Model]
NEW


4105DL-H [Hard Case Model]

NEW

• 3pole and 2pole Earth Resistance measurement (0.01Ω-2000Ω)

• Waterproof design (IP67)

• Rotary Switch makes the user interface very intuitive

• Large LCD Display with Backlight

• Led to monitor correct / non correct auxiliary earth spike resistance

• Earth Voltage Measurement (AC/DC 0-300V)

• CAT Ⅳ 100V

Now we have promotion activity as below:

1. Buy any Kingrun tester, will get a KEW2200 clamp meter for Free!!

2. You will get 5% discount by online inquiry(just click the green"INQUIRY"bottom and put into your specific inquiry).

3. 2 Years warranty period. Whole lifetime maintenance.

4. 24h online technical support.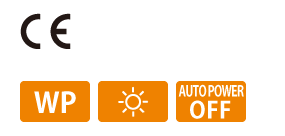 *1 For precision measurement, auxiliary earth resistance should be 100 Ω ±5% or less.
*2 At simplified measurement add ±0.10 Ω to the specified accuracy.
*3 Accuracy within the auxiliary earth resistance: ±5% rdg ±10 dgt.
Accessories/Optional Accessories /Related Products