The complete set of frequency conversion series resonance test equipment is mainly composed of frequency conversion control power supply, excitation transformer, reactor, capacitor voltage divider and compensation capacitor (optional).
1. The entire group of equipment has protection functions such as overvoltage, overcurrent, zero-position start, system detuning (flashover), etc. The overvoltage and overcurrent protection value can be set according to user needs, and the flashover protection action of the tested item flashover occurs. , to protect the tested items.
2. The weight of the whole device is very light, which is convenient for on-site use.
3. This system has three working modes, which are convenient for users to choose flexibly according to the site conditions and improve the test speed. The working modes are: automatic mode, manual mode, automatic tuning and manual boost mode.
4. It can store and print data in different places. The stored data number is a number, which is convenient for users to identify and find.
5. When the equipment automatically sweeps the frequency, the starting point of the frequency can be arbitrarily set within the specified range, and the large LCD screen displays the scanning curve, which is convenient for users to intuitively understand whether the resonance point is found.
6. The DSP platform technology is adopted, which can easily increase or decrease functions and upgrades according to user needs, and also makes the man-machine exchange interface more user-friendly.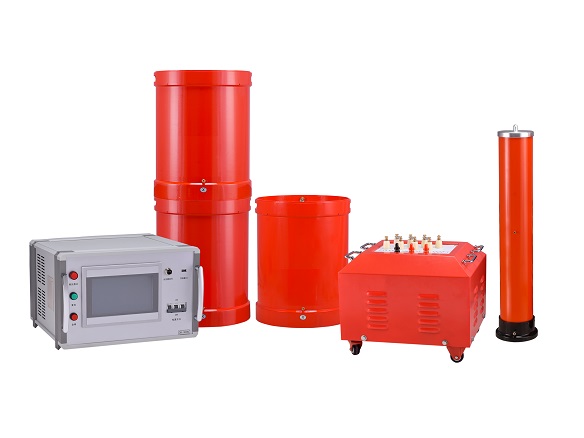 Main Technical Parameters and Functions of the Device
| | |
| --- | --- |
| Rated capacity | 324kVA |
| The input pow | Three-phase 380V voltage, frequenc |
| Rated voltage | 54kV |
| Rated current | 6A |
| Working frequency | 30-300Hz |
| Device output waveform | Sine wave |
| Waveform distortion rate | Output voltage waveform distortion rate ≤1% |
| Working time | Continuous 60 min is allowed underrated load; Overvoltage 1.1 times 1 min |
| Temperature rise | Temperature rise ≤65K after continuous operation underrated load for 60 min |
| The quality factor | Device Q≥30(f=45Hz) |
| Protection function | Over current, over voltage and flashover protection (see frequency conversion power supply for detail) |
| Accuracy of measurement | System RMS level 1.5 |
Excitation Transformer Specification
| | |
| --- | --- |
| Rated capacity | 9kVA |
| The input voltage | 0-400v, single phase |
| The output voltage | 3kV |
| Structure | dry type |
| Weight | About 50 kg |
Variable Frequency Power Supply
| | |
| --- | --- |
| Rated output capacity | 18kW |
| Working power supply | 380±10%V (three-phase), power frequent |
| The output voltage | 0-400v, single phase |
| Rated input current | 45A |
| Rated output current | 45A |
| Voltage resolution | 0.01kV |
| Accuracy of voltage measurement | 1.5% |
| Frequency range | 30-300Hz |
| Frequency regulation resolution | ≤0.1Hz |
| Frequency stability | 0.1% |
| Running time | Continuous 60 min at rated ca |
| Noise level | ≤50dB |
| Weight | About 21 kg |
High voltage reactor
| | |
| --- | --- |
| Rated capacity | 54kVA |
| Rated voltage | 27kV |
| Rated current | 2A |
| Inductance | 68H per unit length |
| The quality factor | Q≥30(f=45Hz) |
| Structure | dry type |
| Weight | About 75 kg |
Capacitive Voltage Divider
| | |
| --- | --- |
| Rated voltage | 60kV |
| High voltage capacity | 2500pF |
| Dielectric loss | tgσ≤0.5% |
| Voltage division ratio | 1000:1 |
| Measuring accuracy | Valid value of 1.5 |
| Weight | About 10 kg |