Why DC Winding Resistance Testing of Transformers is Needed?
DC winding resistance testing is regarded as another essential routine screening tool. It indicates problems such as loose, defective or incorrect connections, which cause enough transformer failures each year to be regarded as a failure category of its own. Winding resistance tests may also reveal problems with a transformer's tap changer (s), on-load (OLTC) and/ or de-energized (DETC) – a major and, by some statistics – leading, component category that fails in transformers.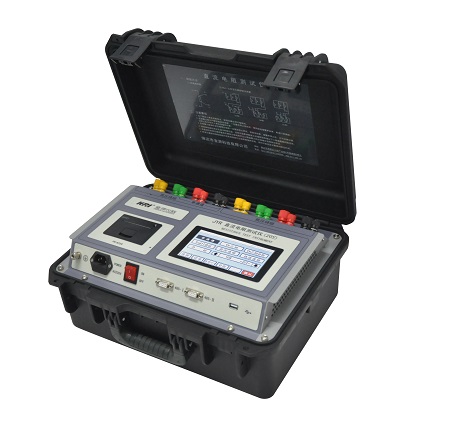 FUNCTION INTRODUCTION
1. Testing lines are connected to the transformer in one trial, without resetting testing line during testing process.
2. Adopting
simultaneous testing of three phases
when Yn type is tested, h
igh-voltage YN three-phase simultaneous measurement compensation method (including O-phase resistance),
and calculate balance rate of resistance of three phases automatically.
3. Under Yn/D(Y)type can be tested phase by phase, and calculate balance rate of resistance of three phases automatically, it solves the problem that the leading wire resistance of neutral point can not be measured.
4. Apply automatic magnetic assist for testing low voltage when testing large capacity YnD11 transformer (with magnetic assist box inside).
5. Auxiliary to judge the data stability, automatically calculate the percentage of 5", 15" or 30" resistance deviation, and accurately judge the authenticity of the test data
6. Large screen display, humanized operation, printing with USB and 485 communication interface.
7. Protection function from misconnection 380V power, power off and back EMF, discharging indication is clear.

Other Functions:
1.With temperature conversion function. Select the test material (copper/aluminum) and input the temperature (optional special wireless temperature probe to collect the test temperature directly),then automatically convert to the resistance at the set standard temperature for easy comparison with historical data.
2.100 sets of test data can be stored;With USB interface to import data into the USB drive;With the built-in Bluetooth communication module to interact with PC and other computer data or connect to a micro-Bluetooth printer to print data reports.
3.The "Test/Stop" mechanical button with shortcuts and automatic shutdown function if no operating in 5 minutes.
4.Built-in rechargeable lithium battery, a single charge can complete a hundred of transformer tests.Fully balanced battery charging technology effectively extends battery life.
5.With high-brightness color touch LCD display, touch menu operation is fast and clear.
6.With discharge sound alarm, overheat alarm and other perfect protection circuit. Clear instructions to reduce mishandling.
Technology Specification:
Deployment

JYR-10S

JYR-20S

Output current

0 ~ 10A

0 ~ 20A

Text range

0~100Ω

Accuracy

0.2%±2μΩ

Minimum resolution

0.1μΩ

Power supply in operation

AC220V±10%, 50Hz±1Hz

Temperature in operation

-20~40℃

Relative humidity

≤80%RH, No forming dew

Volume

Length 410mm Width 330mm Height 200mm

Net weight

10 kg

CALIBRATION CERTIFICATE: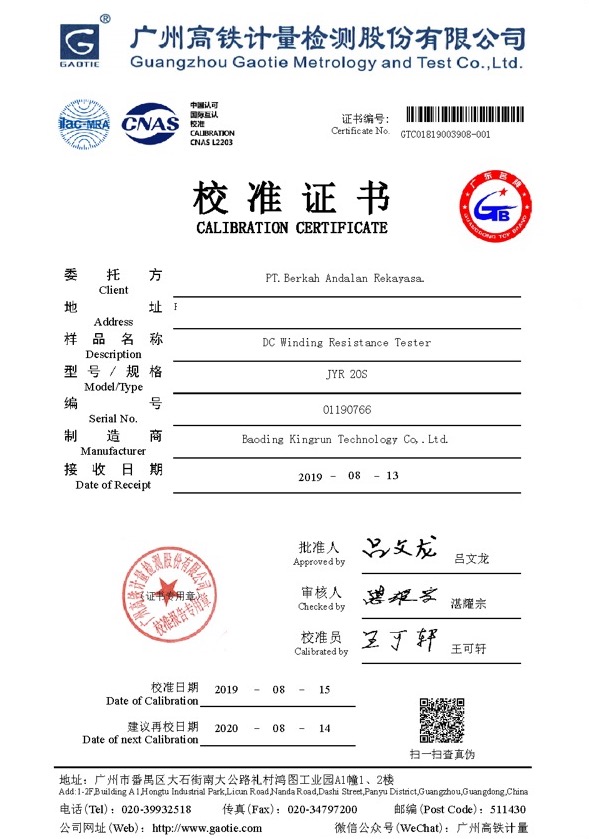 All KRI tests will adopt international express to reach any corner of the world as fast as 72 hours