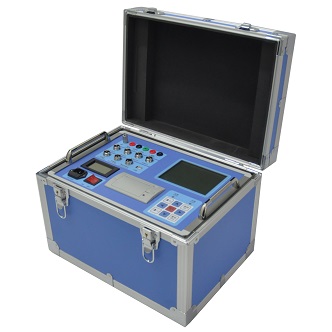 It has its own high-frequency and high-power DC adjustable power supply, which is suitable for mechanical characteristics testing of high-voltage switchgears of various voltage levels such as SF6 Vacuum circuit breaker, GIS cabinet, disconnectors etc., and can also perform low-voltage tests and reclosing tests of switches.

1. The instrument is suitable for all SF6 switchgear with metal contact points, GIS cabinet, vacuum disconnector, oil switches and column switches, contactors, etc.
2. The sampling frequency is 100K, the test accuracy is higher, and the test data is more accurate
3. Sensors: acceleration speed sensor, rotation speed sensor, linear travel sensor and contact sensor, the installation is extremely convenient and simple. Three-phase speed, time of switch on-switch off, switch off-switch on, switch off-switch on-switch off
4.30A high-power DC output, LED digital meter displays DC voltage, easy and clear operation
5. Trigger mode: internal trigger, external trigger, sensor trigger and manual trigger
6. Energy storage power output: the instrument can provide adjustable energy storage with a maximum starting current of 20A
After the power supply is connected at one time, it can automatically control the motor energy storage without reversing the line.
7. Lock release power supply: directly replace the on-site DC power supply, release the opening and closing lock, and facilitate the completion of the switch test
8. The host has a large screen, direct-transparent, wide-temperature backlight LCD, and the contrast is electronically adjusted. Perfect full Chinese menu prompts operation, switch action once, display all data and waveform map
9. The host can store 1000 groups of on-site opening and closing test results, the real-time clock in the machine,
It is convenient to archive and save the test date and time; the USB interface is used for data transfer and program upgrade. RS232 interface, can be used for online operation (optional)
10. The instrument has a powerful data analysis function, which can analyze various mechanical characteristics of the circuit breaker.
Indicator parameters for effective analysis. Built-in fast micro-printer to print all data and maps
11. The instrument has the function of testing the running-in life of switchgear such as circuit breakers and isolating switches, and it can be used for multiple purposes.


Test Item

Test Range

Min.Resolution

Accuracy

Time Testing

0 ~ 8000.0ms

0.01ms

≤ 0.01% rdg ± 0.1ms

8000.0ms ~ 64000.0ms

0.1ms

≤ 0.01% rdg ± 0.1ms

Speed Testing

0 ~ 20.00m/s

0.01m/s

≤ 1% reading ± 0.01m/s

Travel Testing

0 ~ 1000.0mm

0.1mm

≤ 1% reading ± 0.1mm

Coil Current

Test rang: 40.00A; Resolution 0.01A

Coil Resistance

Test rang: 27.0Ω; Resolution 0.1Ω

Output Power

DC0~270V adjustable/30A; Resolution 1V, deviation ≤ 1% rdg ± 1V

Insulation Resistance

> 2.0MΩ

Power Supply

AC220V±10%, 50Hz ± 1Hz

Volume

L360mm * W240mm * H210mm

Net weight

7kg