Demo Video: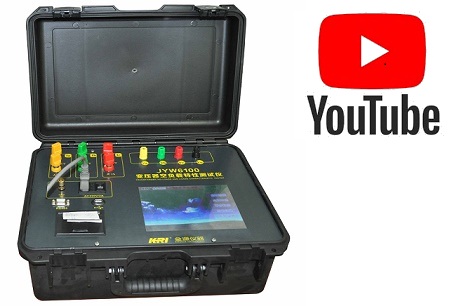 JYW6100/6100 (A) Transformer No-load and on-Load Tester power factor tester
JYW6100 /6100(A) is widely used in transformer, amorphous alloy transformer, generator, fan motor industries. The instrument ensures the measurement accuracy under the low power factor. Its exclusive automatic data locking technology with the characteristics of accurate data locking and no manual intervention, makes the work efficiency increased by more than ten times.
Function Introduction
●JYW6100 /6100(A) Transformer No-loads and On-loads tester power factor tester can measure no load loss, load loss, no load current, load current, impedance voltage, zero sequence impedance, line voltage, phase voltage, voltage effective value and average value, average value of three-phase voltage, current value, power, power factor, frequency, 30 square harmonic wave analysis and so on.
●Two watt meter and three watt meter measurement methods.
● Tracking and Locking the data automatically.
●Data storage, data printing, data export to U disk.
●RS485 communication interface, through which the instrument can be operated by computer.
●8 inch color LCD screen, intelligent touch operation.
TECHNOLOGY SPECIFICATION:
Type

JYW6100

JYW6100 (A)

Voltage measuring range

AC10~1000V

Current measuring range

AC0.1~50A

AC0.1~100A

Accurate

Voltage

0.1%±0.005V (Frequency 40~70Hz)

0.5%±0.005V (Frequency 70~200Hz)

Current

0.1%±0.0002A (Frequency 40~70Hz)

0.5%±0.0002A (Frequency 70~200Hz)

Power

P×0.1%±(U×I×0.02%)±0.05W (P is the power reading, U is the voltage effective reading, I is the current effective reading).

Operation power

AC220V±10%, 50/60Hz

Operation temperature

-20℃~40℃

Relative humidity

≤80%RH, no dew

Volume

L420mm*W320mm*H200mm

L380mm*W360mm*H220mm

Net weight

6.9kg

12kg