1. Adopts embedded industrial computer platform, Industrial grade using
environment,high stability. Lithium electricity power supply, convenient for site test.
2.12.1-inch large screen system, touch mouse operation, Computer XP operating platform integrated software.
3. Adopts the latest USB communication interface, signal collecting stability, can realize double control and double display by use with a notebook computer, The host can automatically select eight kinds of sampling frequency from 3.125MHz to 250MHz, adaptive pulse width can meet the testing requirements of different cable lengths to reduce the rough measurement error and improve test accuracy.
4. Software realize searching fault automatically, display distance automatically, double vernier movement which can be accurate to 0.15 m. Waveform can be freely compressed and extended, two waveforms closer to the standard displaying in one screen for you to accurately compare and analyze, improve test accuracy and reduce error.
5. The host can equip with Wi-Fi receiver and 3G software to get remote on-site test help and suggestions from our experts. Technicians can help on-site testing through android testing software at any time and anywhere.
6.32G memory, multiple kinds of field waveform and field wiring diagram, can be used with a tap.
7. Precise locator can directly display the distance from tester to fault point. We use squelch technology, which is another innovation of domestic similar products. It helps you in locating fault precisely and quickly and also helps you reduce damage and loss arising from power off.
8. The newly developed intelligent combined sampler has replaced the tedious field connection. It has the features of intuitive waveform, easy analysis, complete isolation from the high voltage, and absolute safety for the main engine and operators.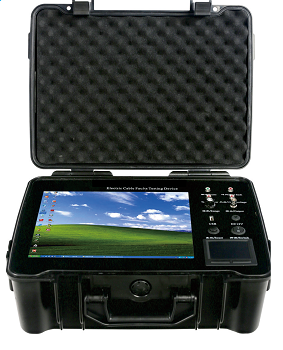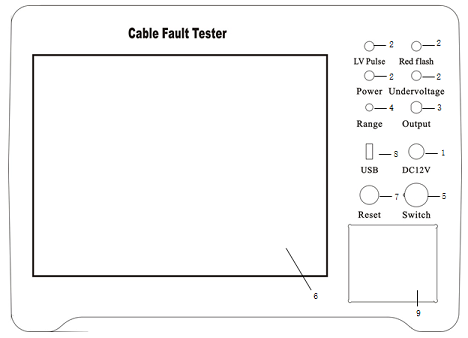 Ⅲ
.
Test parameters of Cable Fault Tester
1) Can test cable fault at different voltage levels. Can test cable fault of different cable sections, different dielectric and different cable materials. Can test open-circuit cable fault, short-circuit cable fault, low-resistance cable fault, high-resistance leakage cable fault and high-resistance flash-over cable fault.
2) Can test all faults of railway communication control cable, streetlight cable and airport signal cable.
3) Can test wave transmitting velocity in any cable of known length.
4) Can test buried route and depth of power cable.
Test distance: no less than 60Km
Min. test distance (non-detection area): 0-5m or without
Locating deviation: ±0.2m
Test error: system error is no ore than ±1%
Resolution: V/fm,V is transmitting velocity m/μs;software cursor is 0.15 m.
Sampling frequency: 6.25MHz,12.5MHz,25MHz,50MHz,100MHz (Adaptive pulse width).
Power source and power consumption: AC 220V±10%, power consumption≤15W
DC 12V(7AH), power consumption≤20W
Standby time: continuous working 4 hours
Test fault(low resistance fault, open circuit fault and short circuit fault)