Demo Video:
When thinking about transformer testing, TTR ranks number one in the routine maintenance testing for most engineers. It provides a good starting point for transformer diagnostics, in that it tests that the transformer is doing what it is supposed to do.
FUNCTION INTRODUCTION:
JYT-A Tester can test the transformer with neutral point by 8 testing poles, it can test the turns ratio accurately (Non conversion), it is very convenient for the manufacturer to find the fault.
Function Introduction:
●The interface adopts intelligent touch mode, which is simple and convenient to operate. The circuit adopts a new generation of all digital scheme to ensure the long-term stability of the instrument.
● It has the function to measure the current.it is more sensitive to judge the inter-turns short circuit
●The testing speed is high, it can finish the three-phase testing within 1.5 seconds by one time of wiring connection.
●JYT-A transformer turns ratio tester (TTR tester) is suitable to test the ratio from distribution transformer to power transformers, CT, PT and transformers with Z connection.
●Without power clock and date display, the instrument can store 50 sets of data, and the data will not be lost if the power is failure.
●With large color LCD screen, the data is clear and easy to read, thermal printer printing, RS485 communication interface and U disk storage interface.
●The instrument has the protection function of misconnection of high voltage and low voltage, and has the function of transformer short-circuit and inter-turns short circuit protection. It has the protection function of power supply misconnection with AC380V.
JYT-A Transformer Turns Ratio Testing Connection: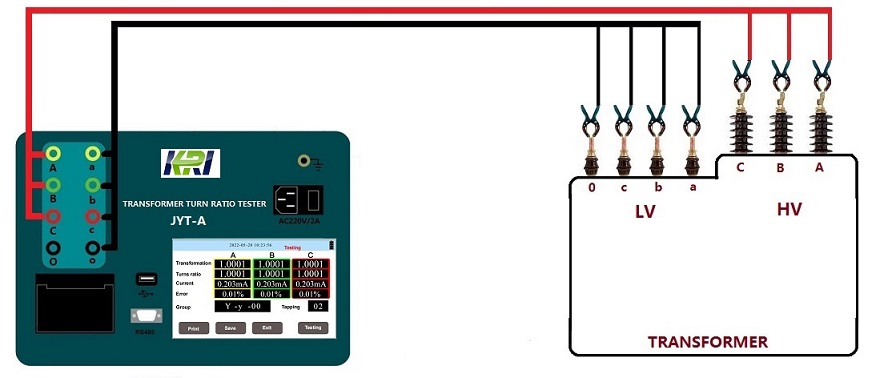 Advantage of JYT-A transformer turns ratio tester (TTR tester):
1. High performance of MPU (microprocessor) can provide high precise data and fast calculation.
2. LCD screen provide clear display for all tested value.
3. Thermosensitive printer provide fast and clear tested value printing.
4. JYT-A transformer turns ratio tester (TTR tester) supply RS485 and USB interface for data transmission.
JYT-F turn ratio tester interface and testing result:

JYT-A Transformer turns ratio tester's testing clips are made from pure copper with punch forming , the surface is nickel plating, the handle is insulating, the testing clip is safe, easy handling and well connection (13Meters).
JYT-A SPECIFICATION:
Type

JYT-A turn ratio tester

Figures on display

5 Five figure

Output voltage

AC160V

AV10V

Auto (DC battery)

Test range

0.9 -10000

0.9 - 500

0.9 - 5000

Accuracy

<2000

0.1% ±2 Character

≤150

0.1% ±2 Character

≤1000

0.1% ±2 Character

2000-10000

0.2% ±2 Character

150-500

0.3% ±2 Character

1000-5000

0.3% ±2 Character

>2000

0.3% ±2Character

Minimum resolution

0.0001

Rechargeable lithium battery

Power supply in operation

AC220V±10%,50Hz±1Hz

Test storied data

50 Groups

Temperature in operation

-20~40℃

Relative humidity

≤80%RH, No forming dew

Volume/Weight

Length 360 mm Width 280 mm Height 160 mm / 6kgs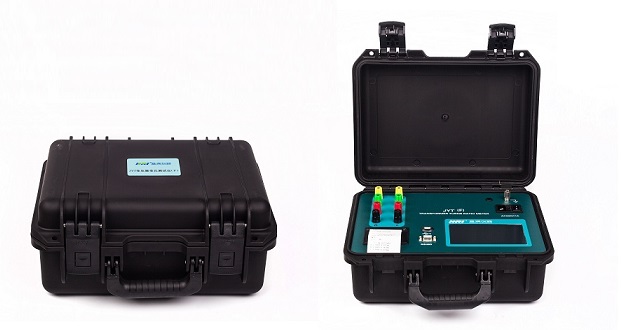 All Kingrun Testers will be Delivered by International Air Express for Free!




turn ratio tester, transformer test instrument, winding resistance tester, transform