Importance of transformer insulation resistance
It is pointed out that the damage of the distribution transformer is mostly caused by electrical breakdown and electrochemical breakdown, and the defects of the dielectric medium are the main causes of electrical breakdown and electrochemical breakdown. In order to avoid the damage of the insulating medium, the transformer overload should be limited and the short circuit should be prevented. In the work, the transformer field test should be done to strengthen the insulation supervision of the transformer oil; to prevent overvoltage and overcurrent, it should be installed properly. Overcurrent, overvoltage protection, periodic measurement of transformer insulation and oil temperature. In terms of operation management, it is necessary to strengthen inspection and inspection, and focus on the operation sound, oil level and temperature of the transformer, so as to detect the partial discharge defects between the layers and deal with them in time to avoid transformer damage.
According to statistics, various faults of high-voltage power grids are mostly caused by damage of high-voltage electrical equipment insulation. Therefore, understanding the insulation characteristics of equipment, mastering the insulation status, and continuously improving the insulation level of electrical equipment are the fundamental guarantee for the safe and economic operation of power systems.
As the main equipment of the power system, it is very important and necessary to maintain good insulation during operation. In order to ensure the insulation level of the transformer, a series of insulation tests are to be carried out from the manufacture of the transformer. These tests include: insulation testing of raw materials at the time of manufacture, intermediate testing of the manufacturing process, qualitative and factory testing of the product, handover test after installation on site, and insulation preventive test for maintenance operation during use. Among them, the handover test and preventive test of the transformer are the two most important tests, and the handover test not only has a judgment on the overall insulation of the transformer. It also provides basic information for preventive testing during future operations. Therefore, the infrastructure personnel must pay special attention to the accuracy and authenticity of the handover test in the infrastructure construction process. At the same time, it is necessary to understand the insulation test content and principle of the transformer in the handover test.
Kingrun series transformer JIM insulation resistance tester provides a reliable guarantee for the testing of transformer insulation resistance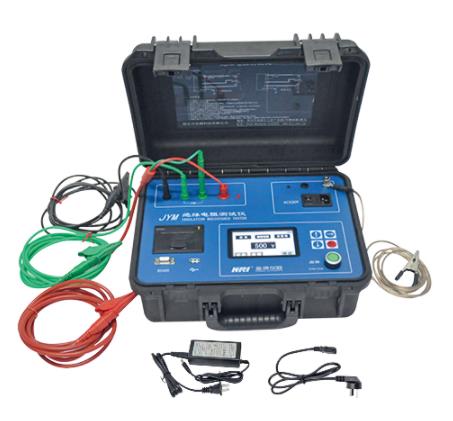 Related Articles:
What Test Items are Required for 110kV/220kV Substation Acceptance and Maintenance Testing?

What Tests Must be Done before the Transformer Leaves the Factory?
Main Factors Affecting the Operating Life of Transformers
What is the Purpose of Measuring the DC Resistance of the Transformer Winding?
Points to note in transformer oil breakdown voltage (BDV) test
DC winding resistance tester with 500 times tests on a single charge -JYR9310
The test items are required for 110kV/220kV substation acceptance and maintenance testing(with corresponding tester types):
Test Object

Testing Item

Tester Type

Cable

Cable AC Hipot Testing

JYCX

Cable Insulation Resistance Testing

JYM KYORITSU

Transformer

Insulation Resistance of Winding

JYM KYORITSU

DC Leakage Testing in 1min

JYDHV

Winding Resistance Testing

JYR50S

Winding Deformation Testing

JYP

Turns Ratio Testing

JYT-A

AC Hipot Testing

JYCX

Short Circuit Impedance Testing

JYW6300

Dan Delta Testing

JYC

Oil Breakdown Voltage (BDV)Testing

JY6611

Oil Tan Delta Testing

GTD-61A

Switchgear

Circuit Breaker/Disconnector Resistance

JYL-200B

Relay

Relay Performance

JY7003G

On-load

On-load Switchgear Testing

JYK-I

Tap Changer Dynamic Testing

JYK-I

Instrument Transformer

Current Transformer (CT)Testing

JYH-C

Potential Transformer (PT)Testing

JYH-C

Surge Arrestor

Zinc Oxide Characteristics Testing

JY6800

1mA DC Reference Voltage

JYDHV

Capacitor

Capacitor Current

JY6700

Capacitor Inductance

JY6700

Ground Grid

Grounding Down Lead Earth

JYD