Three-phase winding DC resistance measurement
The stator of the three-phase asynchronous motor and the synchronous machine, and the rotor of the three-phase wound motor have three-phase symmetrical windings. In the National Motor Standards, methods for measuring the DC resistance of these windings are specified. When measuring, the temperature of the winding to be tested must be measured. If the motor is in the actual cold state, the temperature can be corrected by the ambient temperature. When performing a type test or other test requiring accurate results, measure each phase resistance or each line resistance 3 times, and then take the average of 3 times as the measurement result.
● Direct measurement of phase resistance
When the stator or rotor three-phase winding phase of the motor has 6 terminals at the head and tail, or the three-phase winding is connected to the star (Y-shaped) inthe motor, but the neutral line is taken out except the three phase lines ( When the star point is also taken out, the DC resistance of each phase can be measured separately.
● Measuring line resistance
When the three-phase winding of the stator of the motor is connected to the star (Y) or the triangle (△) inside the motor, only the resistance of each of the two external ends (ie, the line resistance) can be measured, and then the corresponding phase resistance is converted by the formula.
JYR20S/10S transformer winding resistance tester, Yn/D(Y) three phase winding measurement.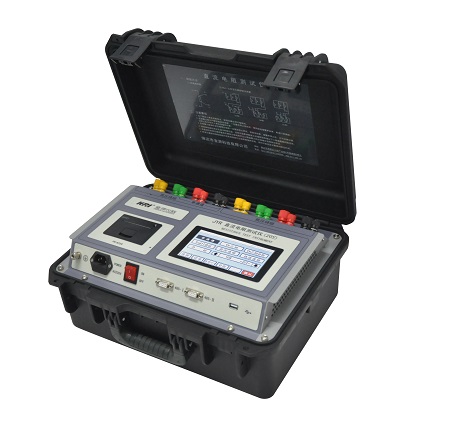 The test items are required for 110kV/220kV substation acceptance and maintenance testing(with corresponding tester types):
Test Object

Testing Item

Tester Type

Cable

Cable AC Hipot Testing

JYCX

Cable Insulation Resistance Testing

JYM KYORITSU

Transformer

Insulation Resistance of Winding

JYM KYORITSU

DC Leakage Testing in 1min

JYDHV

Winding Resistance Testing

JYR50S

Winding Deformation Testing

JYP

Turns Ratio Testing

JYT-A

AC Hipot Testing

JYCX

Short Circuit Impedance Testing

JYW6300

Dan Delta Testing

JYC

Oil Breakdown Voltage (BDV)Testing

JY6611

Oil Tan Delta Testing

GTD-61A

Switchgear

Circuit Breaker/Disconnector Resistance

JYL-200B

Relay

Relay Performance

JY7003G

On-load

On-load Switchgear Testing

JYK-I

Tap Changer Dynamic Testing

JYK-I

Instrument Transformer

Current Transformer (CT)Testing

JYH-C

Potential Transformer (PT)Testing

JYH-C

Surge Arrestor

Zinc Oxide Characteristics Testing

JY6800

1mA DC Reference Voltage

JYDHV

Capacitor

Capacitor Current

JY6700

Capacitor Inductance

JY6700

Ground Grid

Grounding Down Lead Earth

JYD
Related Articles:
What Test Items are Required for 110kV/220kV Substation Acceptance and Maintenance Testing?

What Tests Must be Done before the Transformer Leaves the Factory?
Main Factors Affecting the Operating Life of Transformers
What is the Purpose of Measuring the DC Resistance of the Transformer Winding?
Points to note in transformer oil breakdown voltage (BDV) test
DC winding resistance tester with 500 times tests on a single charge -JYR9310