GTPD-92C Patrol UHF PD tester uses ultra high frequency (UHF) measurement and ultrasonic (US) measurement methods to detect GIS faults. The instrument has multiple functions of PD analysis.
Functions and Feature
1. Small size, light weight, easy to carry and convenient for field use.
2. Adopting automatic gain control, strong anti-interference ability.
3. UHF measurement adopts waveform mode, statistical mode (peak chart, PRPD chart, HRPS chart), pulse mode.
4. Ultrasonic (US) measurement adopts waveform mode, continuous mode and phase mode.
5. Time domain waveform multi-wave display mode can accurately judge the interference and discharge.
6. The software provides an expert library and an intelligent diagnosis system to accurately determine discharge types.
7. By measuring the pressure of the ultrasonic signal to speculate the discharge intensity, the discharge position can be accurately determined.
8. With data preservation function, data can be reviewed.
9. The inspection data can be exported to the computer through SD card or U disk, so as to complete report.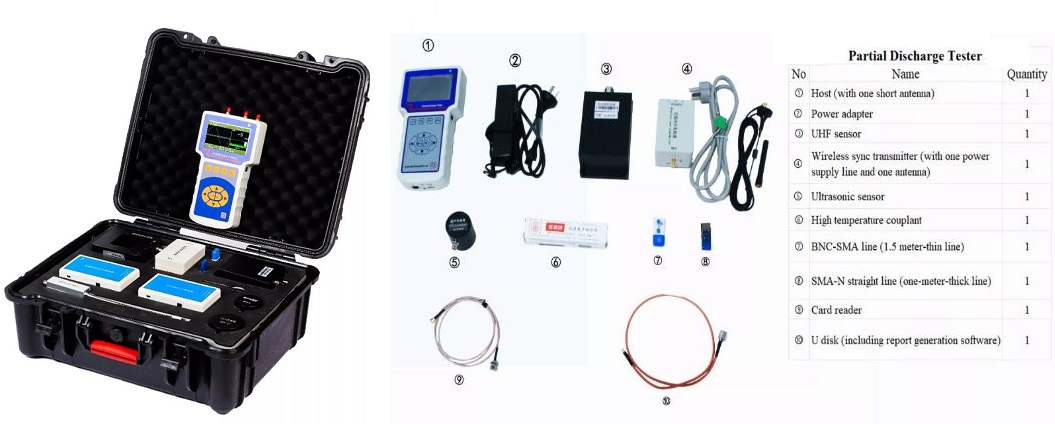 Channels

One UHF, one US

Trigger mode

Internal synchronization,

external synchronization and optical synchronization

Sampling accuracy

12 bit

UHF

Detection bandwidth

300MHz~1.5GHz

US

Frequency

20~300kHz

Output interface

BNC

Gain

40dB±1dB

Receiving type

Antenna

Peak value sensitivity

>70dB

Transmission type

Coaxial cable

Average value sensitivity

>50dB

Sensitivity

<-85dBmW

Dynamic range

>80dB

Hard ware

Display

4.3 inch TFT true color LCD display, resolution: 480X272

Storage

SD card, standard 16G, maximum support 32G

Interfaces

Headphone jack, DC charger input port, LED indicator, RS232 port, USB synchronous port USB2.0, RJ45 network port, SD card slot

Working power

Battery powered (16.8V lithium battery), normal working time is about 7 hours, charging time is about 5 hours.

Size

235×133×48mm

Weight

0.85kg excluding the sensors