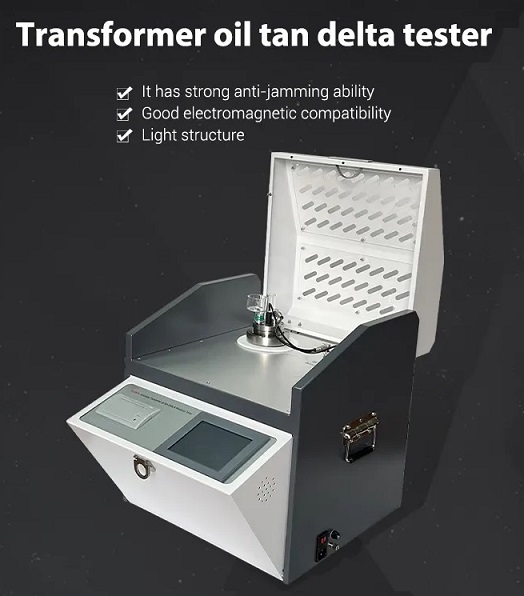 Functions and features
1. The GTD-61A Automatic Oil Tan Delta(OTD) & Oil dielectric loss tester is highly automated, allowing for the measurement of temperature rise, dielectric loss, and resistance in one go.
2. The test kit adopts medium-frequency induction heating and a PID temperature control algorithm. This heating method has several advantages, including non-contact heating between the oil cup and the heating body, uniform heating, high speed, and convenient control. As a result, the temperature is strictly controlled within the preset temperature error range.
3. The GTD-61A test kit uses advanced DSP and FFT technology to ensure data stability, accuracy, and reliability.
4. The internal standard capacitor is an SF6 inflatable three-point capacitor. The dielectric loss of this capacitor is not affected by ambient temperature and humidity, so the accuracy of the instrument is still guaranteed after long-term use.
5. The large color touch screen and English operation menu make the GTD-61A test kit easy to operate.
6. The GTD-61A test kit provides tips on opening the cover after shutting off the high voltage, short-circuiting the high and low voltage electrodes of the oil cup to eliminate any hidden safety hazards, and ensuring the safety of the operator and normal operation of the equipment.
7. The test kit has a real-time clock, allowing the test date and time to be saved, displayed, and printed with the test results. The device can also display real-time monitoring of the environment.
8. The GTD-61A can automatically store and store up to 100 sets of test data.
9. The test kit has the function of calibrating the empty electrode cup. The capacitance and dielectric loss factor of the empty electrode cup are measured to judge the conditions of the empty electrode cup. The calibration data is automatically saved to facilitate accurate calculation of relative permittivity and DC resistivity.
10. The GTD-61A has a wireless transmission function, making it easy to connect with a computer for data transmission and counter charge functions.
11. The oil can be drained off automatically without being taken out, making it convenient to clean.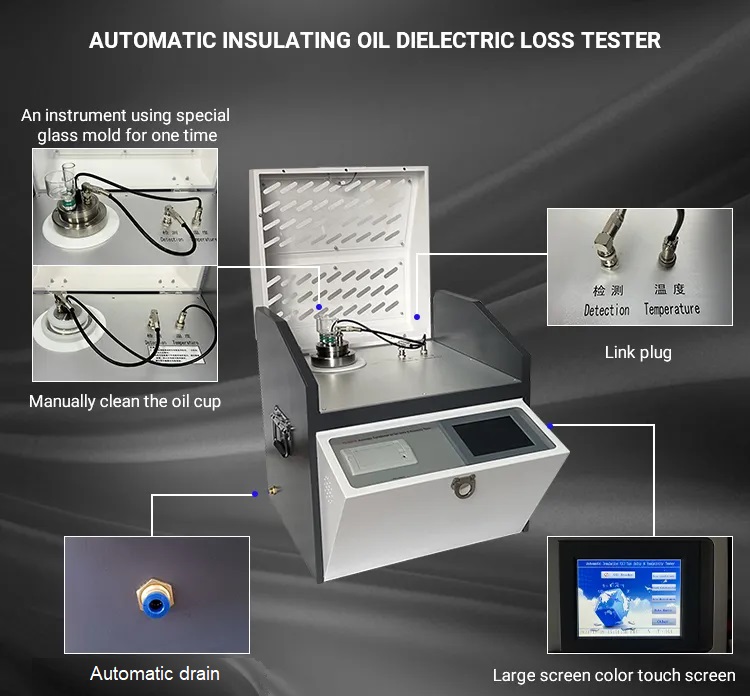 Tester Specification:
Items Test Range Accuracy Resolution

Electric capacity 5pF~200pF ± (1% reading+0.5pF) 0.01pF

Relative Permittivity 1.000~30.000. ±1% 0.001

Dielectric loss factor 0.00001~100 ± (1% reading +0.0001) 0.00001

DC Resistivity 2.5MΩm~20TΩm ±10% reading 0.001MΩm

Measured temperature range: 0~125℃

Temperature measurement error: ±0.5℃

Test Voltage AC(RMS): 500~2000V Continuously adjustable, frequency 50Hz

Test Voltage DC: 0~500V Continuously adjustable

Oeration power: AC 220V±10%. 50Hz/60Hz ±1%

Operation temperature: 0℃~40℃

Relative humidity(RH): <80% RH no dew.

Power consumption: 100W

Volume: 420*380*385mm

Weight: 21Kg
Following Standard:
1. Dielectric breakdown (BDV) (ASTM D877 & ASTM D1816, IEC 60156)
2. Tan Delta (Dielectric Dissipation Factor (DDF)/ Power factor) (ASTM D924, IEC 60247, IEC 61620, BS 5737, JIS C2101, VDE 0380-2, IS 6262)
3. Resistivity (ASTM D1169, IEC 60247, BS 5737, JIS C2101, VDE 0380-2, IS 6103)