Demo Video:
JYR40S/50S three-phase winding resistance tester,which supports all grade power transformer's routine and diagnostic testing work, also can support factory laboratory and acceptance tests.
Adopting the third generation constant current source technology, the maximum output current can reach 50A (40A), the output voltage can reach 24V, built-in channel conversion matrix. By using JYR40S/50S you can perform various tests on power transformer without re-connecting, the instrument can finish DC winding resistance testing items including three-phase simultaneous test, phase by phase test, magnetic assistance test and single phase test.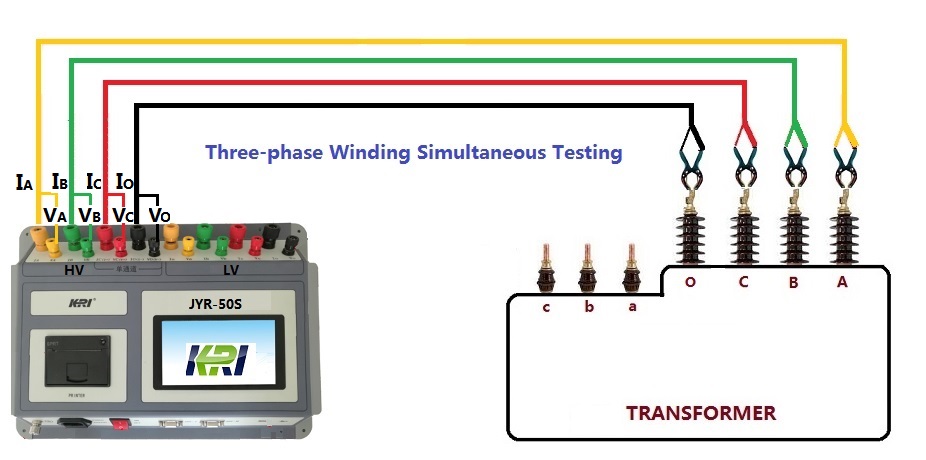 Function Introduction:
● The output current can be set and also can be selected as per the resistance of the tested product automaticly.
● Having the three-phase simultaneous testing and phase by phase testing function, and calculate the resistance balance rate of the three phases automaticly.
● Measuring range: 0~20kΩ, the instrument can measure the DC resistance of the inductive products such as the transformers and instrument transformers.
● Auxiliary judgment of data stabilizing function. Automatically calculate the percentage deviation of resistance value of 5s, 15s and 30s, accurately determine the reliability of data, and prevent misreading data.
● The temperature conversion can be made according to the material(Copper/Aluminum) of the tested products, so that it is convenient to compare with the historical data.
● With transformer demagnetization function, it can reduce residual magnetism of transformer.
● With a permanent calendar, 99 sets of data storage, Chinese and English interface selection function, power failure without data loosing, mini printer and U disk interface.
● With 6 inch color touch LCD display screen.
● Dual RS485 (RS232) communication interface, with PC control software, the instrument can realize remote control measuring.The instrument can be fitted with an optional built-in bluetooth module to achieve bluetooth wireless communication.
● With the discharging alarm by sound and the discharging indicating clearly function, the misoperation can be reduced.
● With AC380V misconnection protection function,perfect back EMF protection function and anti-arcing function.
● It has the features of dustproof, shockproof, moistureproof, high precision, good repeatability and portability.
Technical specification:
Test item

JYR50S/40S

Output Current Set

Automatic

Output current (Three-phase)

50A (40A), 20A, 10A, 5A, 2A, 1A, 200mA,100mA

50A (40A)~1A

Output current (Single phase)

50A (40A), 20A, 10A, 5A, 2A, 1A, 200mA,100mA, 20mA

Range

0~20kΩ

Accuracy

0.2%±0.1µΩ

Min. resolution

0.01µΩ

Output Voltage

DC24V

Operation Power

AC220V±10%, 50 Hz±1Hz

Operation temperature

-20℃~40℃

Relative humidity

≤80%RH, no dew

Volume / Weight

L420mm×W320mm×H200mm / 16.8kgs
JYR40S/50S Operation Interface: