What is the neutral point grounding of the power system?
Commonly used neutral point grounding methods for power systems are: direct neutral grounding, neutral grounding, neutral grounding via arc suppression coil (resonant grounding), and neutral grounding via resistance grounding. The grounding operation mode of the power system involves many important aspects such as the safe operation of the power grid, the reliability of power supply, and the safety of the user. In the professional and technical aspects related to power systems, overvoltage and insulation coordination, relay protection, communication and automation, electromagnetic compatibility, grounding design and many other fields, is a wide-ranging system problem.
Among them, the neutral point is connected to a resistor in series between the neutral point of the power grid and the ground. Appropriate selection of the resistance of the connected resistor not only bleeds off the energy of the half-wave after the single-phase grounding arc, thereby reducing the possibility of re-ignition of the arc, suppressing the amplitude of the over-voltage of the grid, and improving the sensitivity of the relay protection device. In order to act on the trip, effectively protecting the normal operation of the system.
In the AC grid, especially in cable-powered networks, resistance grounding is increasingly widespread.
Transformer neutral point grounding resistance cabinet is a complete set of grounding equipment including grounding transformer. It can be installed in power plant power system, substation power supply system, industrial and mining enterprise power distribution system, and realize the neutral point resistance of these power grids. Grounded system operation mode.
JYR-20S Transformer Neutral Point Tester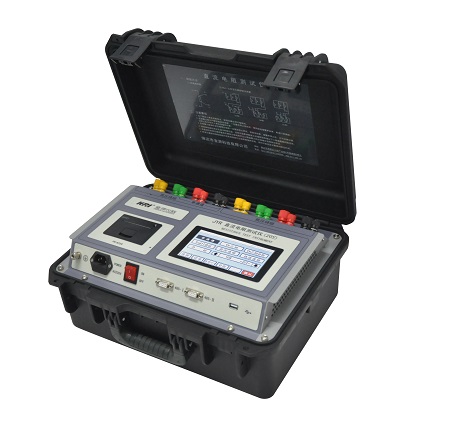 The test items are required for 110kV/220kV substation acceptance and maintenance testing(with corresponding tester types):
Test Object

Testing Item

Tester Type

Cable

Cable AC Hipot Testing

JYCX

Cable Insulation Resistance Testing

JYM KYORITSU

Transformer

Insulation Resistance of Winding

JYM KYORITSU

DC Leakage Testing in 1min

JYDHV

Winding Resistance Testing

JYR50S

Winding Deformation Testing

JYP

Turns Ratio Testing

JYT-A

AC Hipot Testing

JYCX

Short Circuit Impedance Testing

JYW6300

Dan Delta Testing

JYC

Oil Breakdown Voltage (BDV)Testing

JY6611

Oil Tan Delta Testing

GTD-61A

Switchgear

Circuit Breaker/Disconnector Resistance

JYL-200B

Relay

Relay Performance

JY7003G

On-load

On-load Switchgear Testing

JYK-I

Tap Changer Dynamic Testing

JYK-I

Instrument Transformer

Current Transformer (CT)Testing

JYH-C

Potential Transformer (PT)Testing

JYH-C

Surge Arrestor

Zinc Oxide Characteristics Testing

JY6800

1mA DC Reference Voltage

JYDHV

Capacitor

Capacitor Current

JY6700

Capacitor Inductance

JY6700

Ground Grid

Grounding Down Lead Earth

JYD
Related Articles:
What Test Items are Required for 110kV/220kV Substation Acceptance and Maintenance Testing?

What Tests Must be Done before the Transformer Leaves the Factory?
Main Factors Affecting the Operating Life of Transformers
What is the Purpose of Measuring the DC Resistance of the Transformer Winding?
Points to note in transformer oil breakdown voltage (BDV) test
DC winding resistance tester with 500 times tests on a single charge -JYR9310